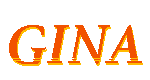 The Fable of Gina
The Fable of Gina is a little game I made for Ludum Dare 35 compo.
Lately, I've been having the strangest craving to make something like The Legend of Zelda. The old one from 1986 to be exact! When the theme of Shapeshift was announced, I knew I had my outlet. Different avatars with unique abilities enabled me to let myself make that sort of metroidvania level design we know and love.
Sadly, I think I tried to do too much in the 48 hours I was given. The pixel art is incredibly rushed, and the game lacks a lot of the little details that give a game it's charm. There's no silly intro like in Synergy Shakedown, nor is the win/lose screen terribly rewarding. Next time, I'll have to remind myself to keep the scope small and focus on a good core.