Flirt Tactics <WIP>
Quick instructions! Use the arrow keys to select a character, and the spacebar to select, move, or get them to flirt. The backspace button lets you cancel some menus, and the escape key lets you end your turn.

Each turn you can move each of your characters once. If they move adjacent to a bandit, they can flirt with them. Each character has a romantic type that works better/worse on others. For example, a Clever character's flirting is effective on an Intellectual character, but is ineffective on a Mysterious one. When you flirt you can also choose a style, which is better/worse/neutral on a bandit. You won't know what they like until you try though!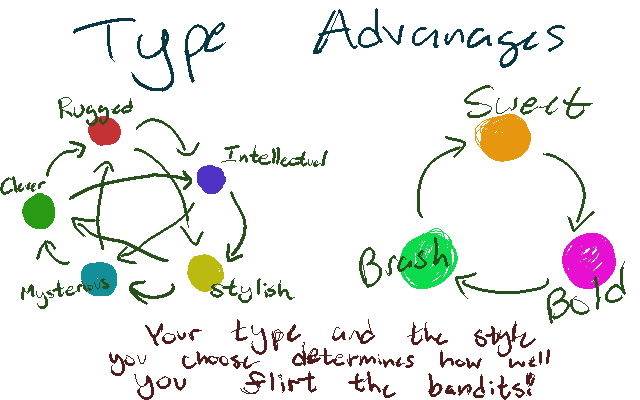 I wanted to make some sort of parody of a tactical role-playing game for this submission that was also a bit of a visual novel. Unfortunately, it took a bit longer than I'd like to write the code, so I hope to keep adding content and make a more full campaign later!
It's a bit confusing, so please let me know if you have any questions!